Win a Year's Supply* of Bacon!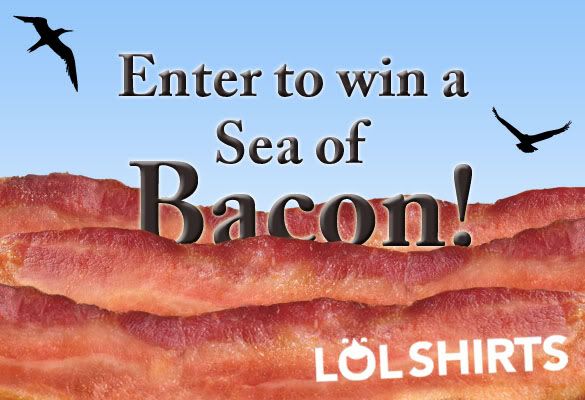 New Proposed Text Abbreviation: EB
Next time someone texts you and asks why you've been away from your phone for so long, just reply back "EB". It stands for "Eating Bacon." This explanation works great because everyone can understand the powerful draw of bacon.
We Want You to Win a Year's Supply* of Bacon
When you sign up for LOLShirts newsletter, you'll automatically be entered to win a year's supply* of bacon!
On August 31, 2011, we will randomly draw the email address of one lucky winner who will quite literally "take home the bacon."
(We'll actually have it delivered.)
* The Fine Print
Our definition of a year's supply of bacon is
21 pounds
. This was calculated through lab experiments by 3 scientists, 2 interns, and their pet tarantula. So, we'll send you 21 pounds of bacon. Whether you eat it in a year or in one sitting is up to you. We won't judge you either way.
Enter to win by joining the newsletter below!